Tails of the City pet care roots run deep in the greater Washington, DC region. Founded in 2002, Tails of the City is comprised of a community of professional pet care providers and zoologists passionate about pets and elevating the pet care industry. Back in 2002, many people didn't even know there was such a thing as a professional pet sitter. We are proud to be one of the long-standing pet care company anchors of this region by helping to facilitate the rapid growth of pet care services in DC and surrounding areas by providing quality services and raising industry standards.
We are crazy about pets and our purpose is deeply rooted in our belief that animals are spiritual beings who deserve a higher level of care and compassion. Their unique qualities, personalities and habits are honored and respected. It is our goal to maintain high standards, provide a seamless customer experience and deliver the most perfect pet care for your furry family members.
We make the reality of pet ownership possible by meeting all your pet care needs. The newest technology powers our pet care. Pet owners get the best of both worlds by benefiting from the latest technology available to ensure accountability and transparency and the personal and professional touch knowing that your pets are in caring and capable hands. Tails of the City built its reputation as being peerless in the pet care industry through the company's transparency, reliability, professionalism and personal touch.
What Can Pet Owners Expect From Us?
TRANSPARENCY: Each pet visit is GPS-pinned and time-stamped at check-in & out. While at work, you will never wonder ever again if the walker forgot your dog or if you are on the plane heading to your vacation destination if the sitter is behind schedule or coming at all! We take the worry out of pet care and offer you peace of mind.
RELIABILITY: Teams are managed by Pack Leaders who monitor sitter progress and ensure that sitter schedules are reconciled at the end of the day so no pet sit missed. There are many hands on deck to make sure that your pet gets the attention and care needed while you are away. Any issues or questions are quickly addressed.
PROFESSIONALISM: Guided by a strong business ethics, we maintain high standards in our daily business operations and make sure that staff members are trained, knowledgeable, caring animal lovers who take their responsibility of caring for the pets of others seriously. We expect a higher performance standard from our staff and demand accountability.
PERSONAL TOUCH: Dedicated to customer happiness, we are strong believers in communication and know that leaving your pet is a worrisome idea. To alleviate the stress, we are committed to updating our clients with regular, real-time pictures and updates about how their pets are doing. We pride ourselves on being extremely accessible and going above and beyond.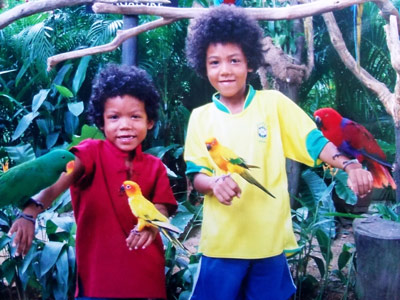 Tails of the City Pet Enthusiasts in Training!
"Surround your children with animals, for they are the teachers with purity of heart."
—Anonymous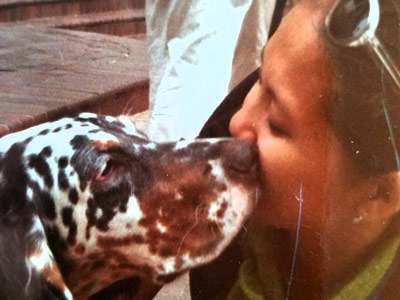 The Founder of Tails of the City and Born to Run Pet Fitness getting her daily dose of pets!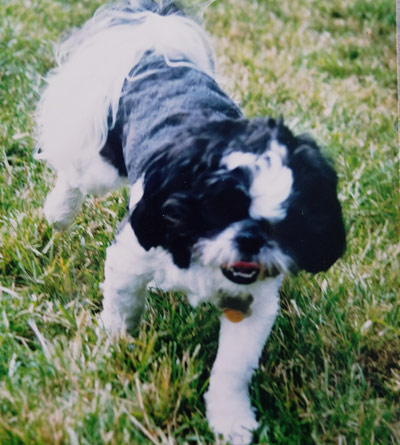 Meet our very first client, Price! It all started in 2002 with this lovable, little shih tzu with a big personality. Scruffy guy who could easily hang with the big boys. Your spirit has moved on to another realm but you remain dear to our hearts and the reason we knew we wanted to do this for the rest of our lives. Hope you are staying out of trouble in Dog Heaven and are palling around with Beau & Louie. Thank you, Price!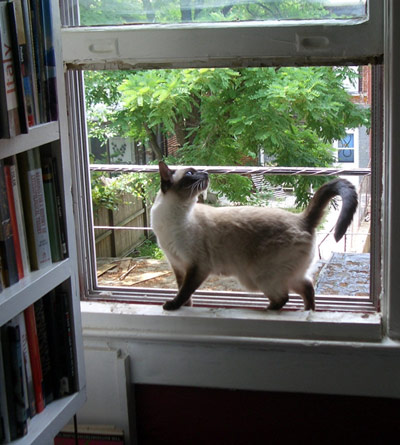 In Loving Memory: Lakme McFate, our longest-standing and dearly loved cat client from 2002 – 2017. The arch of your life is filled with grand memories. All the sitters who have loved you over the years hope that now that you have crossed that rainbow bridge, that you are without pain, have joined your play mate, Tosca (another Tails of the City favorite feline), getting an endless supply of savory wet food and find comfort cuddled in loving arms. You brightened our lives and stirred our souls. You are missed.